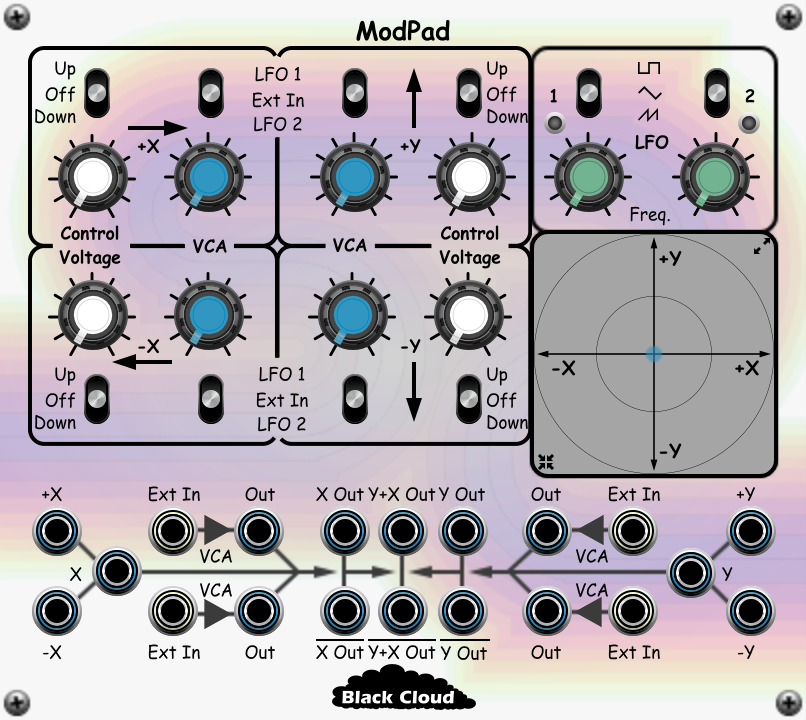 ModPad is a performance oriented touchpad controlled modulation source after the vintage Ocatve Electronics CATSTICK hardware controller.
With its touchpad, two LFOs, four internal VCAs and four CV sources, you can achieve a different modulation type and/or depth for touchpad gestures in each direction; right, left, up, and down. Each touchpad direction has a separate Control Voltage and VCA section with "knob per function" controls in each section.
The selection of outputs provides a variety of direct, mixed and/or modulated control voltages for use with other modules in your rack:
Individual CV outputs for each touchpad direction and both axis.
Each VCA has separate input and output jacks and can be used internally or as a freestanding VCA.
X and Y outputs that sum the respective axis and VCA outputs.
A summed output that include both X and Y values.
Inverted X, Y, and XY outputs.
A PDF format "Quick Reference Guide" is available here: BCI ModPad Instructions